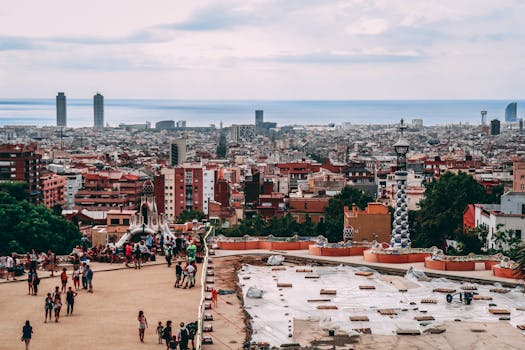 Whether you're doing solo Barcelona, family Barcelona, or stag do Barcelona, if you only have a weekend then it's important to make the most of your time. This article will help you do just that.
Go on a guided tour
It's always advisable to book yourself onto a guided tour as early as possible into a city break; this way, you experience a lot in a short space of time, giving you a better idea of how to fill the rest of your stay. And there's no shortage of options in Barcelona. For example, the Barcelona City Tour provides a comprehensive route around the city, and includes stops at some of the main attractions and landmarks, such as Gaudi's Sagrada Família and Park Güell, La Rambla, and Montjuïc Castle.
Other popular guided tours include the Barcelona Tapas Tour, which takes visitors to some of the best tapas bars in town, and the Barcelona Bike Tour, which offers the opportunity to explore the city on two wheels. There are also several walking tours available that focus on specific areas or neighbourhoods, such as El Born or Barceloneta.
Enjoy the nightlife
Lively bars, cosy clubs, outdoor terraces to enjoy the warm summer nights: Barcelona has it all. One of the most popular spots is La Terraza, with its stunning views of the city skyline from its rooftop terrace. What's more, it hosts world-renowned DJs and some of the biggest parties in town.
Another favourite is Opium Mar, which offers a unique combination of music, art and fashion. It boasts two dance floors and several bars, so you can enjoy a drink or two while listening to live music. For something more laid back, you can head over to El Xampanyet, a traditional Catalan tavern that serves delicious tapas and cava (sparkling wine).
Hit the beach
Barcelona's coastline stretches for 4.5 miles and features a variety of stunning beaches, each with its own unique atmosphere and activities. The most popular is Barceloneta Beach, which is located right in the heart of the city and offers plenty of sunbathing spots, restaurants, bars, and shops.
If you want a more relaxed atmosphere, Mar Bella Beach is worth a visit as it has a large grassy area perfect for picnics and volleyball games – that said, it's also good for water sports, like windsurfing and kitesurfing. Alternatively, due to its shallow waters and wide range of amenities, such as playgrounds, showers, toilets, restaurants, etc., Nova Icària Beach is ideal for families with children.
There's much more to do in Barcelona than is possible in only a few days, but if that's all you have then this is a fine way to fill them!