According to the Red Data Book of International Union for Conservation of Nature (IUCN), there are 47 critically endangered species in India (as of 5 September 2011). India is majorly wrapped in forests, the Western Ghats, the great Himalayan region, the Indo-Gangetic plains, and the hills of the North-East. India is home to many of the wildlife species but unfortunately, with increasing poaching and infringement, many of our wildlife reserve have been wiped-out and threatened. Every single day trees are cut down in large numbers to accommodate new building structures; very soon, we'll be entering a world of environment crisis. These are the five most endangered wildlife species in India.
Royal Bengal Tiger
The majestic look of the Bengal Tiger is what makes it magnificent. Due to excessive poaching, there is a tremendous decline in the number of tigers found in India. In fact, the Union Ministry of Environment and Forests (MoEF) claimed that in 2014, there are only 1,411 Bengal tigers in the wild. They are found in parts of Madhya Pradesh, tiger reserve parks in Pench, Kanha and Bandavgarh, and in the foothills of the Himalayas. These endangered species tigers are at risk of extinction due to poaching for leather and fur for illegal wildlife markets. Moreover, because of human-tiger conflicts they are killed in large numbers. There are many NGO's and government bodies that are trying their best to conserve the conserve the endangered Bengal tigers.
Snow Leopards
According to Defenders of Wildlife, there's an estimated 3,500 to 7,000 snow leopards left in the wild, with 600 – 700 across the zoos around the world. The Snow Leopard is a large cat and is one of the most endangered species. This animal is seen in the rocky mountain ranges at high altitude, in east Ladakh, Valley of Flowers National Park, and Dibang Wildlife Sanctuary. The snow leopards have long and thick fur, for which they are poached and killed. Climate change has been the number one reason for a decline in their numbers. These snow leopards prey on cattle (sheep, goats, horses, and yak calves) and hence are killed by farmers. Because of increasing human civilization and settlement, the grazing space for this animal have reduced. This is also one of the reasons for their extinction.
Ganges dolphins
This marine animal was once found in highest numbers in the holy Ganges river of India. They are also found in Brahmaputra River, Vikramshila Gangetic Dolphin Sanctuary, Manihari Ghat and Buxar. As published in The Indian Express, on January 4, 2015, the population of the dolphins has caused a steep decline, and is now below 2,000. This animal has been recognised as the National Aquatic Animal of India. Ganges dolphins are found at the top of the food chain and have an important role in the overall balance of the marine environment, hence conserving these dolphins is of utmost importance.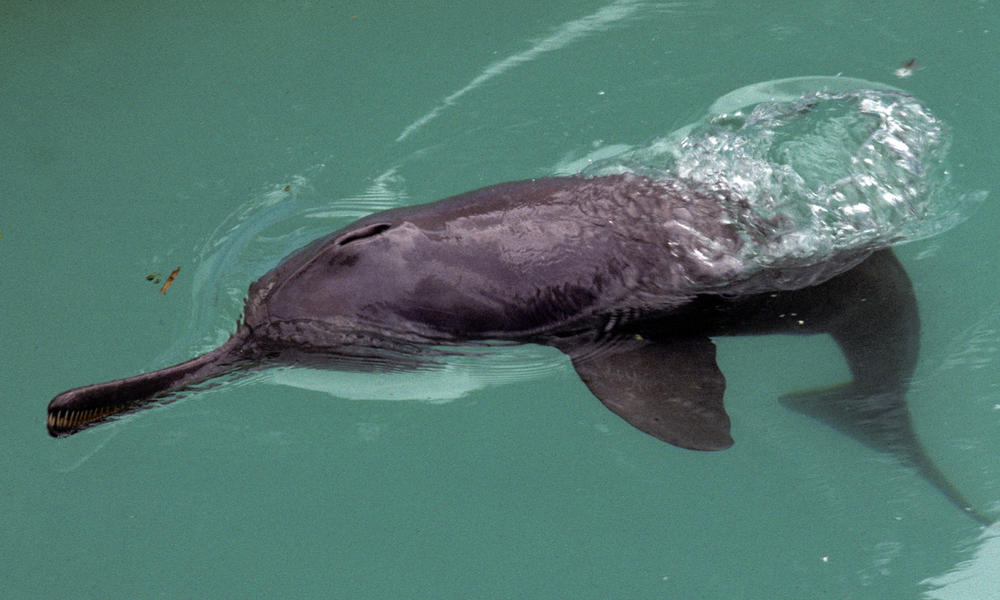 Red Panda
This arboreal mammal is largely found in Arunachal Pradesh, Khangchendzonga and Namdapha National Park, and some parts of Sikkim. They mainly live in bamboo forests and due to habitat loss and forestland fragmentation, Red Panda population have been on a decline. According to IUCN, there are only estimated to be about 10,000 adult Red Pandas left and their population continues to decline each year due to habitat loss and fragmentation, poaching, and inbreeding depression.
One-Horned Rhino
As per the International Rhino Foundation, a total of 3,555 Indian rhinoceros are estimated to live in the wild. Also, the IUCN Red List has recently listed the one-horned Rhino in the endangered list. More than 95 rhinos were killed since 2013 and 9 Indian Rhinos have been killed in Kaziranga National Park of Assam this year. These animals are poached for their horns and are smuggled in exchange for money. Moreover, the one-horned Rhino contribute to the economic growth of the tourism industry. This year, two species of rhino in Asia—Javan and Sumatran have been listed in the critically endangered category.
On an individual level, we can do our bit to save these endangered species by contributing or making donations monthly or yearly. The organisations require the money to build these animals' natural habitat, to provide them with basic amenities such as food, water, and shelter. We can go one-step further by joining an organisation, travelling to the places where we find these animals, and taking care of them.