Tired of buying a new suitcase every time the zip breaks? Or just looking for some extra protection of your prized possessions? I've spent 35 hours researching and reading user reviews to find the best no zip suitcases on the market, including brand names like Tumi, Samsonite, Rimowa and July. Read on to find out everything you need to know before making a purchase.
What to consider when buying the best zipperless suitcase for you?
Material – due to the clam locking system, zipperless suitcases tend to be hard shell only. This could be polycarbonate, polypropylene or aluminium. While aluminium tends to be more durable, it is a lot heavier (and more expensive) which should be taken into consideration. There are zipperless suitcases that have an aluminium frame instead (Carl Friedrik, July), making them a lighter and cheaper version than a full aluminium shell. However, there are a number of aluminium suitcases with less than 4 star reviews with accompanying photos of broken parts so I've carefully selected the best.
Locks – Zipperless suitcases range from having 1-3 locks. Some are TSA approved too.
More suitcase and luggage buying guides
What size suitcase do I need?

2 day trip – 55cm
1 week trip – 69cm
2 week trip – 75cm
> 2 week – > 80cm
This article contains affiliate links where I make a small amount of money if you purchase through it. Find out how we research the best products for our lists.
I've ordered this list by lowest price first to help you quickly find the best zipperless suitcase for your budget
Best zipperless suitcases under 100
Tripp Mulberry Supreme Lock (UK only)
I'm a huge fan of Tripp suitcases and include their luggage collection wherever possible. Look at any Tripp suitcase reviews on Amazon and you'll consistently see 4+ star ratings (we all know Amazon reviewers are the harshest critics too). I don't know how they produce quality suitcase at such a low price for over 20 years. They're the Ikea of the suitcase world.
The Tripp Mulberry is no exception. If you're looking for the cheapest reliable zipperless suitcase (it comes with a five year guarantee), this is it. For under 100 you'll get a 3 point locking system with integrated TSA Approved lock similar to the Samsonite S'Cure, 4 double wheels and a polypropylene shell (the cabin only weighs 3kg and comes in 30L, 60L and 95L capacity). One downside is there is only 2 colours to choose from – black and purple. It also looks like Tripp suitcases aren't available in the US either.
Best zipperless suitcases under 200
Samsonite S'Cure (+Eco & DLX) – Best Value Zipperless Suitcase
Finding any Samsonite suitcase under 200 is an absolute steal. The S'Cure also has a 3 point locking system (there's also a seal to limit moisture penetration).
Inside you'll find standard cross ribbons and zipped divider pad to keep your clothes clothes secure during your journey while the outside has several handles so you can easily lift your luggage and double four wheel spinners. The case is also ultra lightweight yet strong, using polypropylene material called Flowlite. Samsonite also offer a five year warranty. Considering the price point , availability and brand name, the S'cure is the best value zipperless suitcase in the list. Another reason to buy the Samsonite S'Cure is it comes in four capacities and eight colours. There's also an eco-friendly edition (shell is made from recycled material) and DLX version which features an organised interior.
Samsonite F Lite (US Only)
Similar in style to the Samsonite S'Cure, the F Lite features a rubber gasket seals to protect your contents from wet weather, an interior divider panel with zippered pocket, TSA approved lock and monotube telescopic handle. 32 in x 23 in x 13 in – 12 lbs
Luggex (only available in US)
A great option that is both strong and lightweight, the Luggex boasts 3-layered 100% Polycarbonate and aluminium frame. It also has metal corner protectors and a 3 year warrenty.
Samsonite Essens (UK Only)
Made from recycled polypropylene
Shock and noise reducing suspension wheels
Self-repair friendly wheels
3 sizes – Carry-on, medium and Large
2.8 kg (cabin)
5 year warranty
£179
Not available in US
Best zipperless suitcases under 300
Samsonite Maxsum/Magnum Eco
Made from Hardside (Polypro) Roxkin
Recycled yogurt cups and PET bottles
2 sizes – Carry-on and Large
10 year warranty
£185/$250.00
Samsonite Tru-Frame (US Only)
Made from Polycarbonate Roxkin
2 sizes – Carry-on and Medium
10 year warranty
$299.99
Best zipperless suitcases under 400
Somode (US only)
Also featuring an aluminium frame and polycarobnate shell, the Somode is the only zipperless suitcase with a front laptop pocket if that's an important feature for you. Other features include a USB Charging Port and several organisation pockets inside.
The North Face All-Weather Ballistic (UK Only)
Made from recycled-ballistic nylon suitcase
1 size – 57cm
Hardwearing and waterproof
£325
Carl Friedrik
Made from Polycarbonate
3 sizes – Carry-on (3.9kg), Medium (4.5kg) and Large (5.6kg)
Premium Italian leather detailing
Aluminium lock frame
360° Silent Japanese spinner wheels
Compression pad
10 year warranty
£385/$465
Solgaard Closet (US Only)
I love the Solgaard Closet which features a unique built-in five shelving system to save space and make packing easy. It also has an indestructible polycarbonate shell, aluminium frame, lining, made from 100% recycled plastic and integrated USB charging port.
Made from Polycarbonate
2 sizes – Carry-on (3.4kg) and Check in (3.6kg)
$345
Floyd Carry On (US Only)
Made from Makrolon® polycarbonate
2 sizes – Carry-on and Medium
Premium Italian leather detailing
Aluminium lock frame
Silent Japanese spinner wheels
Compression pad
10 year warranty
£385/$465
July Carry On Trunk
Made from Crush-proof glazed German polycarbonate shell with aluminium frame
Ejectable battery with FastCharge USB-C
2 sizes – carry-on and checked
Lifetime warranty
£395/$445
Best zipperless suitcases under 500
Level8 Gibraltar
If you have the budget available, the Level8 aluminium suitcase is the best zipperless suitcase money can buy. Not only does it feature two TSA approved locks, but it's also made from 100% 6-series aluminium-magnesium alloy hard shell (meaning it weighs a whopping 7.5kg). It's aviation level material and Level8 has tested with a 100,000km roll test and 1.5m drop test. The corners also have metal corner guards to help keep it's shape and frame intact. Level8 are so confident in their product, you'll also receive a lifetime guarantee.
I have the Level8 Voyageur and can attest to the build quality of their suitcases. Level8 have only been around since 2008, but have quickly developed a brand name synonymous with quality. At £350, it's a lot of money to spend on a suitcase granted. But if you travel a lot internationally and want a suitcase that will last you a long time, this is the ultimate zipperless suitcase.
Away Carry On Aluminium Edition
4 sizes – carry-on, small, medium, large
Made from aluminium hard shell
Hidden laundry bag
Dual TSA-approved combination locks
4.8 kg
Lifetime warranty
£500/$445
Best zipperless suitcases over 1000
FPM – Fabbrica Pelletterie Milano (UK Only)
The bag's external construction boasts a predominant composition of 97% aluminum and 3% cow leather, while its interior is skillfully crafted with a blend of 85% polyester and 15% cow leather. Noteworthy features encompass a leather top handle, a rubber side handle, a retractable handle, four sturdy wheels, an appealing ribbed exterior, an incorporated TSA lock for security, two sizable butterfly locks, internal leather belts to secure contents, and a removable lining that provides extra cushioning.
Crafted with precision in Italy, the bag stands at a height of 68cm, spans a width of 45cm, and possesses a depth of 27.5cm. Weighing in at 6.6kg, it offers a spacious volume of 68L, making it capacious for storage needs. Maintenance guidance recommends using a gentle, dry cloth to preserve its pristine appearance.
Tumi Aluminium
Made from 100% aluminium
2 TSA integrated combination locks
Protective corner bumpers
5 year warranty
Rimowa Hybrid
Made from aluminium-magnesium alloy and polycarbonate
3 sizes – cabin, medium and large
Lifetime warranty
£1,100/
£805/$1,075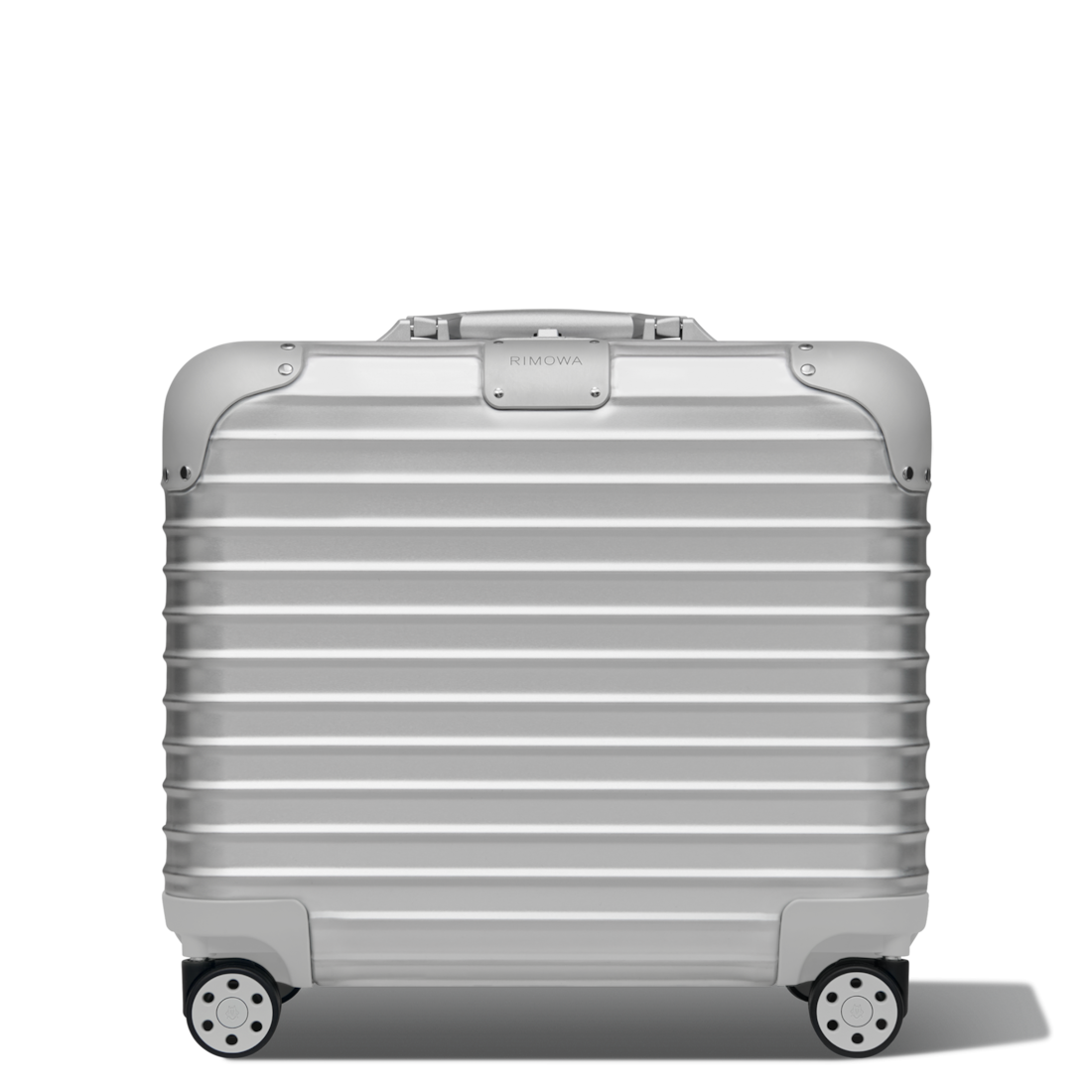 Rimowa Compact
Made from Aluminium
Removable interior divider to change from briefcase to carry-on
Lifetime warranty
£1,100/$1,475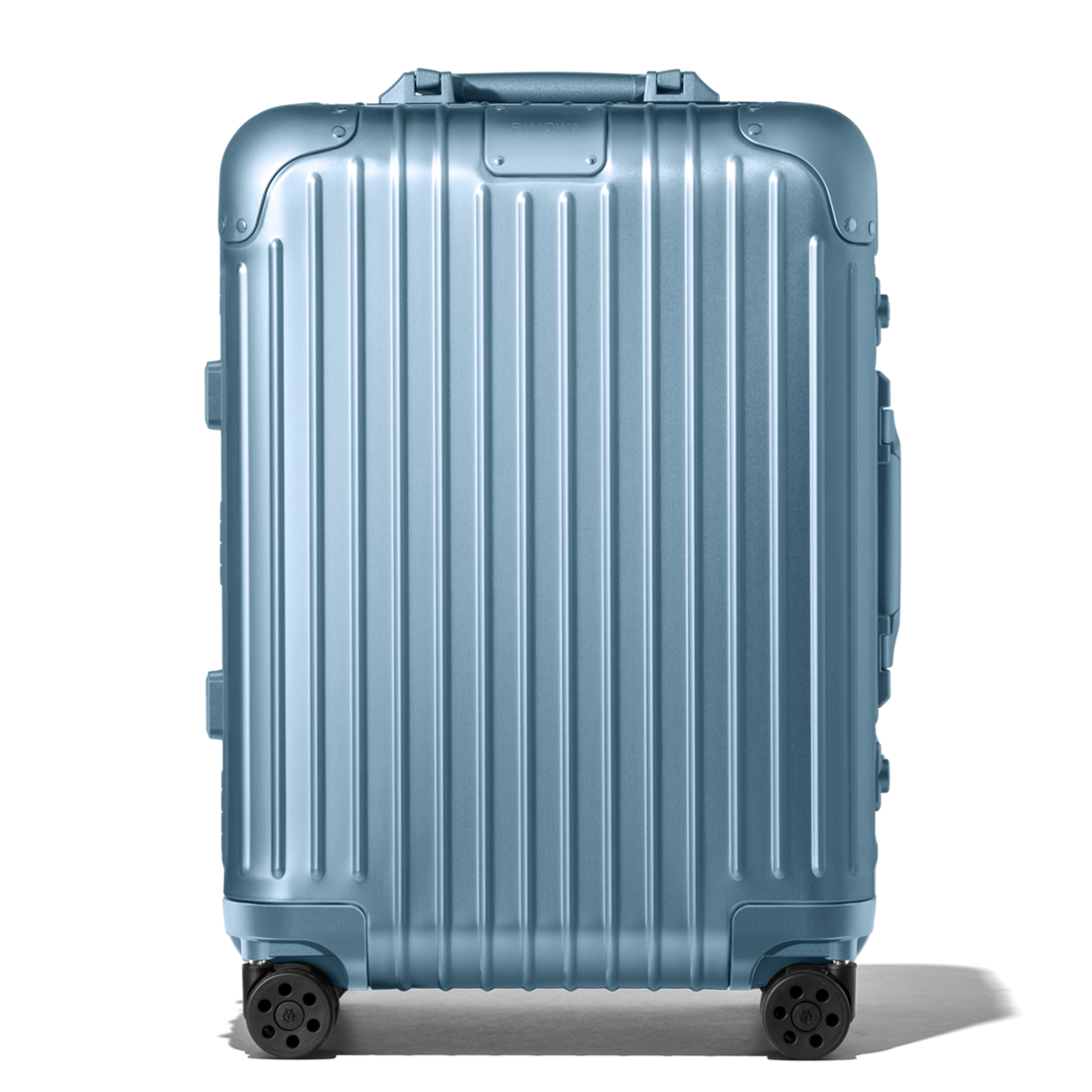 Rimowa Original
Made from high-end anodised aluminium
3 sizes – cabin, large and trunk
Lifetime warranty
£1,070.00/$1,430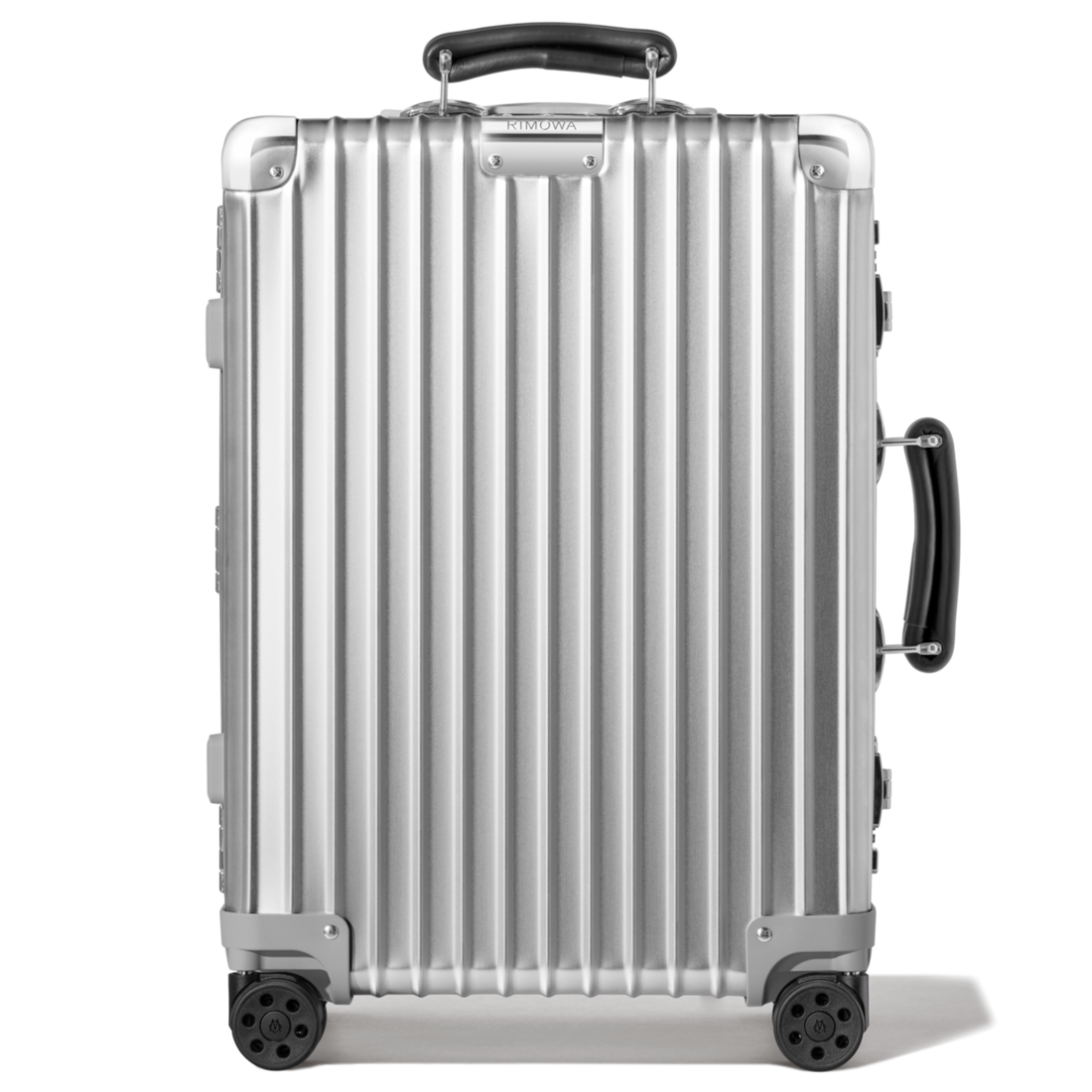 Rimowa Classic
Made from high-end anodised aluminium
5 sizes – small cabin, cabin, medium, large and trunk
Lifetime warranty
£1,130/$1,525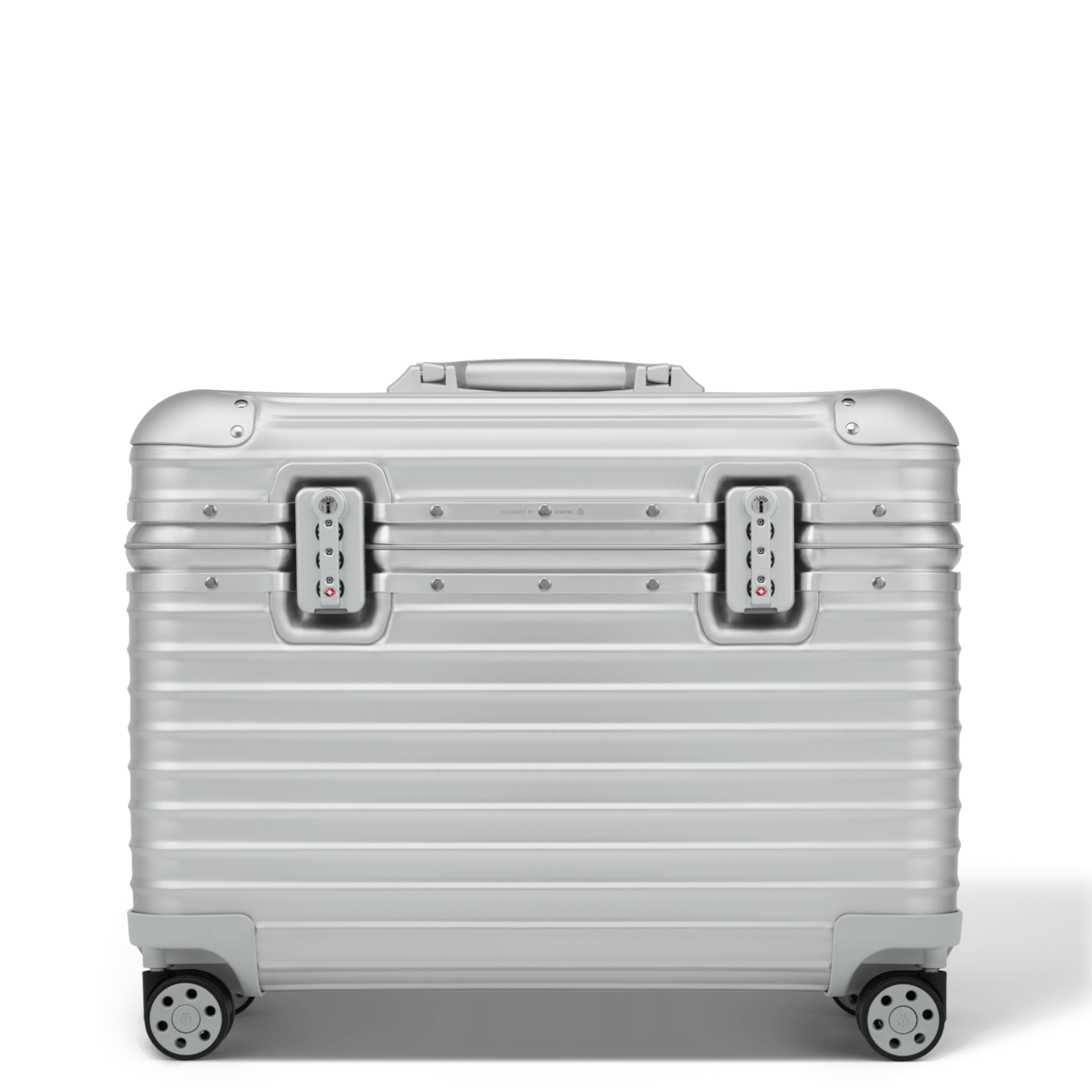 Rimowa Pilot Case
Made from high-end anodised aluminium
Lifetime warranty
£1,150/$1,550
Zipperless suitcase FAQ
Are zipperless suitcases safe?
Zipperless suitcases can be safe if they are designed and constructed properly. The lack of a zipper can actually provide some advantages over traditional zipper bags, as zippers can be prone to breaking or being tampered with. Zipperless suitcases typically use a combination of locking mechanisms such as combination locks, TSA-approved locks, or clasp systems to secure the contents of the bag.
However, it's important to note that not all zipperless suitcases are created equal. Some may be made with weaker materials or less secure locking mechanisms, which can make them easier to break into. It's always a good idea to do some research before purchasing a zipperless suitcase and make sure it has good reviews and is made by a reputable brand.
Additionally, it's important to remember that no suitcase is completely theft-proof. If someone is determined to break into a suitcase, they may be able to do so regardless of whether it has a zipper or not. It's always a good idea to keep valuable items like electronics, jewelry, and important documents in your carry-on bag or personal item, rather than in your checked luggage.
How do you lock a suitcase without a zipper?
Combination locks: Many zipperless suitcases feature built-in combination locks, which allow you to set a code that must be entered in order to open the bag. Combination locks can provide a high level of security, as they are difficult to pick or break open.
TSA-approved locks: If you're traveling within the United States, you may want to consider a suitcase with a TSA-approved lock. These locks can be opened by TSA agents using a special key, which can help to avoid damage to your luggage in the event that it needs to be searched. Many zipperless suitcases come with TSA-approved locks built in.
Clasp systems: Some zipperless suitcases use a series of clasps or latches to keep the bag securely closed. These can be very effective, but it's important to ensure that they are made from sturdy materials that cannot be easily pried open.
Overall, the specific method of locking a zipperless suitcase will depend on the particular design of the bag. It's always a good idea to carefully read the manufacturer's instructions and test the locking mechanism before using the suitcase for travel.
What is a zipperless suitcase?
A zipperless suitcase is a type of luggage that does not use traditional zippers for closure. Instead, it employs alternative mechanisms such as magnetic or latch systems to secure the contents of the suitcase.
Are zipperless suitcases more secure than traditional zipper suitcases?
Zipperless suitcases often offer enhanced security compared to traditional zipper suitcases. The absence of zippers reduces the risk of them being easily tampered with or damaged, making it more difficult for unauthorized access to the contents of the suitcase.
Can zipperless suitcases still be opened easily by someone else?
While zipperless suitcases offer increased security, it is important to choose a reputable brand and ensure the closure mechanism is well-designed. Cheaper or poorly designed zipperless suitcases may still be susceptible to unauthorized access, so it's essential to select a reliable and trusted brand.
Are zipperless suitcases waterproof or water-resistant?
The waterproof or water-resistant properties of a suitcase are not directly related to its closure mechanism. Zipperless suitcases, like traditional zipper suitcases, can be manufactured with waterproof or water-resistant materials. It's important to check the product specifications or labels to determine the level of water protection.
Are there any disadvantages to using a zipperless suitcase?
While zipperless suitcases offer benefits, they may have some drawbacks. Zipperless closures can be more challenging to repair if damaged compared to zippers. Additionally, zipperless suitcases may be more expensive than traditional zipper suitcases. It's also crucial to ensure that the closure mechanism is well-maintained and functioning properly.
Last update on 2023-09-26 / Affiliate links / Images from Amazon Product Advertising API